Steve confirmed on Wednesday night at about a quarter to eleven that we were indeed going to Bristol the next day to see Pussycat & The Dirty Johnsons at his mate Chris's venue, The Fleece. I got over to his place for 3pm the next day for what he called a 140 mile trip to see a band and what I called "New ways to kill Paul in a motor vehicle". He's not a bad driver.
I'm
a bad passenger and our differing driving styles leave me in a constant state of near panic whenever I climb in next to him, to the point where if there are more than two of us I volunteer to get in the back. Mercifully it was an easy run and he maintained what he called his "Bubble" for most of the way - namely - an area to his front and back with no cars in it so he didn't have to make snap decisions. We had minor consternation finding the venue (I'm sure they moved it from when I was last there) but a quick call to Chris had us parked up right outside by around six. I had a quick chat with the band (Who were sat hanging around waiting to sound check) and then we buggered off to check in to The Lanes "Rock & Bowl Motel" where we got a twin room for the remarkable price of £25.20.
A good place to not remember being in
Our receptionist was bit of a dullard and had major problems with calculating that the £40.20 I gave him meant that (with a key deposit of £5) he needed to give me £10 change. It left him so confused that he forgot to give us any bedding and told us the wrong directions for our room. We walked in to find two mattresses with coverless pillows and not a lot else. We agreed that £25.20 (Plus £5 deposit) was actually a little steep. I left the key-code slip he gave us for the internal door to our corridor in the room so when we left I had to ask him for another one, thinking to myself that he had recovered and won a small moral victory. Never mind, I thought to myself - I'll retake the high ground when he gives me my key deposit back in the morning.
We headed back out into the night and by about quarter to eight had scoffed three pints in three very different pubs en route back to the venue. It was shut. Clearly, it didn't open officially until 8pm so we went next door to The Seven Stars. WHAT A DECISION THAT WAS! The pub is fantastic. It has excellent real ales and what appeared to be a clientele exclusively of old men with beards, so we fitted in perfectly. A pint in and Steve spied the "real cider" menu. I was so excited I ordered a pickled egg (40p - bargain). He ordered something I'd never heard of and I attempted to order a pint of "Famous Fieldmouse" which is very strong indeed. Unfortunately the barrel ran dry as it was being poured so the (excellent) barman gave me the two thirds of a pint for nothing and I had a half of Fiery something to go with it, which was basically, a clear cider with chillies in it. We left when we could feel our eyes clouding over in a big apple-type fug. It was gone nine.
The first band on in the venue were a three-piece surf band from London who were really ace and Steve and I spoke to them in the break. I can't really say a lot more than that because by the time we'd had a couple of Guinnesses each I was starting to lose it. I gathered Puss et al in the hallway and did an interview with them while I could still speak. I think it went all right but haven't checked yet. Next thing I knew they were on stage and rocking out to a (sadly) pathetically small crowd. Unperturbed, they carried on like they were playing Wembley and I casually walked to the front where for the next forty minutes or so I (apparently) berated them between songs and repeatedly asked for a number they weren't going to do called "Daddy Long Legs".
Paulyb & Pussycat - As taken by Steve
They tolerated me. With hindsight I was no better than the Penguin Woman from the week before but anyway - you can't have everything. That's it really. When they finished we settled back at the bar and Chris started throwing shots at us, we left at some point and went for some food. Neither Steve or I can remember the walk back to The Lanes or what food we ate. The only proof we had that we
did
eat was some staining under the fingernails, suggesting kebabs. Well I hope that's what it was. I don't like him like
that
.
When we woke up in the morning and realised where we were we couldn't find the key. We had successfully negotiated getting back, getting in to the hotel and indeed getting in to our room, so we must have had it, but it was nowhere to be found. Thankfully, neither was the dullard on reception, who had been replaced by a young lady from somewhere foreign who just laughed when I said "Look we've lost the key
to
the room,
in
the room, we have got no idea how we got back last night but it must be around here somewhere - keep the fiver anyway". We hung about waking up correctly with fruit smoothies and espresso, picked the car up and he drove back like the impatient road devil he is, cursing other motorists, disregarding other motorway users, nearly ramming into the back of cars in queues, lighting fags through roadwork chicanes and generally terrfiying me to the point where I had to resort to just looking out of the passenger window and pretending I was back in Kansas. It was the perfect end to an excellent twenty four hours.
On Friday night I was off so I went down The Arena Tavern in Letchworth. Standing outside I fell into a conversation with a guy holding a pint who said he had been barred. Now I expect people to be barred for fighting, abusive behaviour, vomiting - that sort of thing. His story was somewhat different but I shall gentrify his language in its re-telling. An hour or so earlier he had been making love to a delightful young local wench in an alleyway yonder. On completion he told her in no uncertain terms to depart and he returned to the pub. Needing to use the tavern's conveniences, he retired to his cubicle of choice where he dropped his trousers, to discover gentleman's relish all over his boxers. Not wanting to walk about in his own man fat, he jettisoned said boxer shorts in the bin. For a reason I can't fathom, a female member of staff then went in to the gents toilets where she espied said soiled garment and threw him out for masturbating on the premises. I don't care how much of the story was inaccurate, only that I walked back in to the pub telling him he'd made my night and giggling. Big Howard showed up later on (fresh from a gig in Harpenden) and we had some whiskeys that a day later he would blame for a hangover on a drive North. He's a one.
...And finally...
On Saturday night I had a right laugh doing a gig at The Kings Head in Crouch End. It's London's oldest comedy club (in its original venue), it was sold out and it was fabulous. I was out of there by ten and hot-footing it home as I had been invited to my mate Sam's birthday party in his house round the corner. I nipped back to the flat, had a cup-a-soup (I was a little peckish), picked up some white wine and a few cans of John Smith's and legged it round there. As I got to the back of his house I heard heightened conversation and on arrival at the back door was greeted by a throng op people hanging about by it, several of which were leaving. They stopped dead at seeing me and one said "Hey, Paulyb!". rather embarrassingly they all appeared to know me but I could hardly place any of them. Another pronounced "Ha ha! Everyone here knows you". I replied "Well I
am
a local celebrity" to which another retorted "That's pushing it a bit far" so I conceded "Well, I'm local anyway". I went in, got a bit settled and then the vast majority of them left (I don't think it was something I said). I headed for the back door. As I approached it, the toilet door opened and a not unattractive and quite statuesque brunette walked out. She smiled. I smiled. She said "I'd leave that a minute - I've just done quite a bad poo" and then looked remarkably embarrassed as I said "Oh really?" and carried on into the back yard. She scurried off. seconds later, as I stood out looking at the night sky I heard a loud exclamation of "Oh my God!". Someone else clearly hadn't been given the information. Towards the end of the night someone spied a "Padre Pio" fridge magnet and burst out laughing, pointing at it and then me in turn. On closer inspection, I don't think I have a particular resemblance to the saintly Italian Franciscan...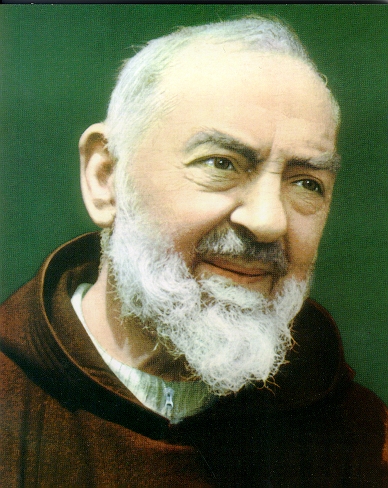 Padre Pio or Pauly Bio?
...but if I really do look like him, then I also look like Obi Wan Kenobi, which until writing this blog, I had never realised had a very rude word within it. I got home shortly before 6am and tried to read, waking up seven hours later with a vodka-espresso memory and a book on the floor.