Thursday February 3rd - The Night Before Paulmas
My birthday weekend has become something of a major event in recent years as it always coincides with shows that I promote myself and this year was no exception. From last Thursday I've managed to have five consecutive nights of relative debauchery and I'm not going to fit them all into one blog post so I will instead do five shorter ones than usual, which I know is a bit of a cop out but some semblance of structure might actually jog my memory a bit more.
Thursday February 3rd - The Night Before Paulmas
I thought I'd kick off the festivities "quietly" so organised the latest in a series of occasional shows at my mate Steve's pub in Luton. They are always particularly random affairs and this month was no exception. I'd booked two of my favourite comics to work with: Rob Heeney (A Manx observationalist of no small amount of skill) and Sol Bernstein (An old Jewish man who dresses up as an older Jewish man to remarkable effect)
Rob Heeney - Cries off beer sessions to play tennis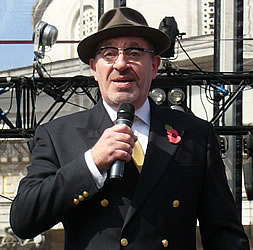 Sol Bernstein - 107 years old and still swearing
Steve had successfully shifted the best part of fifty tickets so we were good to go. There were a lot of ladies about - far more than there were men. I'd go as far as to call the gig "Girl heavy". This would be a feature of the weekend. Both acts did ridiculously well, everyone had a great time, I only
saw
one guy mess up during "Roxanne" (See previous blogs if you don't know what this is, or do some research - I'm not your mother) and some people left very happy at the end of the show. The rest didn't. They just didn't leave. At least fifty per cent of them remained, stoically disregarding work on Friday like the drunken galoots they are. Rounds were bought, shots were consumed, pints were necked, love blossomed, marriages collapsed, old rivalries were settled, wars were won and lost, the answer to the meaning of life occurred to us over the clinking of glasses and was forgotten in the bottom of them. The last people to leave removed themselves about 5am, by which time we had played drunken poker (I came second and Steve won
again),
argued about sport (I was of course right), played several rounds of "spoof" (See previous comment about "Roxanne") and talked absolute rubbish. What was brilliant was that they only left under particular conditions - namely, when they had not only run out of cash but
also
Steve's goodwill towards them. Every man jack of them left with absolutely
nothing
in their pockets and I.O.Us on the bar. It's no wonder this country's in such a mess - some of these people are downright irresponsible.
I retired to my usual sofa in Steve's lounge and fell asleep on my front with the TV on, the crisps I had nicked from the bar unopened
and still wearing most of my clothes. I woke up around eleven with a cat laying across the back of my legs. It felt for all the world like I had got them amputated from the knees down. I had a similar feeling from the neck up.
Paulmas had begun.